iVR from Indigo Studios
Indigo steals the show with VR solution in Phoenix AZ
Indigo Virtual Reality is Here! 
iVR is now being utilized to bring equipment and machinery to shows more easily and cost-effectively than the actual iron.
The problem:  A tradeshow venue in Phoenix, AZ would not allow Caterpillar to bring a physical engine to the show due to weight restrictions.  There are other limitations to bringing in actual iron, such as high shipping costs and the inability to actually power the engine. At your standard tradeshow with an iron engine (or heavy machinery) people will wander about, take pictures of the product and hopefully a representative will get some time to discuss the features and benefits of the product with potential customers.
The Solution:  iVR!  We brought a virtual engine to the show. In fact, we brought a whole virtual engine room to the show!  The experience requires a user to put on goggles and headphones, tuning out the tradeshow, and the consumer is standing in an engine room in front of a full sized engine. They are given two joysticks to allow them to teleport around the engine, touch and hide engine components, open doors and even turn on the engine. The VR experience allowed the user to fully explore the engine while also being guided by a product expert, who was able to relay information to the user one-on-one through a headset.
In Phoenix, we had 2 VR booths running simultaneously with 2 product experts. The experts were able to view exactly what the user was seeing in real time via 2 large TVs at the front of the booth. This allowed the product expert to explain features of the engine to the user while also allowing the crowd to get an idea of what the VR experience was all about.
The exhibit was truly a showstopper for CAT but now the question is 'Do people like this experience more than having real iron at the show?'  The cost savings could be enormous and the draw to CAT equipment using this could be equally beneficial. 
Virtual Reality can truly break down the barriers and restrictions that are limited in selling much of the heavy machinery that CAT manufactures.  We now have the ability to put customers into your excavators for a test drive, or for training purposes, down into a mine to shaft to show how a CAT shearer operates, or even allow them to shrink down to molecular size and show the travel the path of fluids, hydraulics, etc.   Imagine and trainer that is able to pull big pieces of equipment one after the other and walk trainees through its features or show them how to do a procedure.  The possibilities are truly endless!
​​​​​​​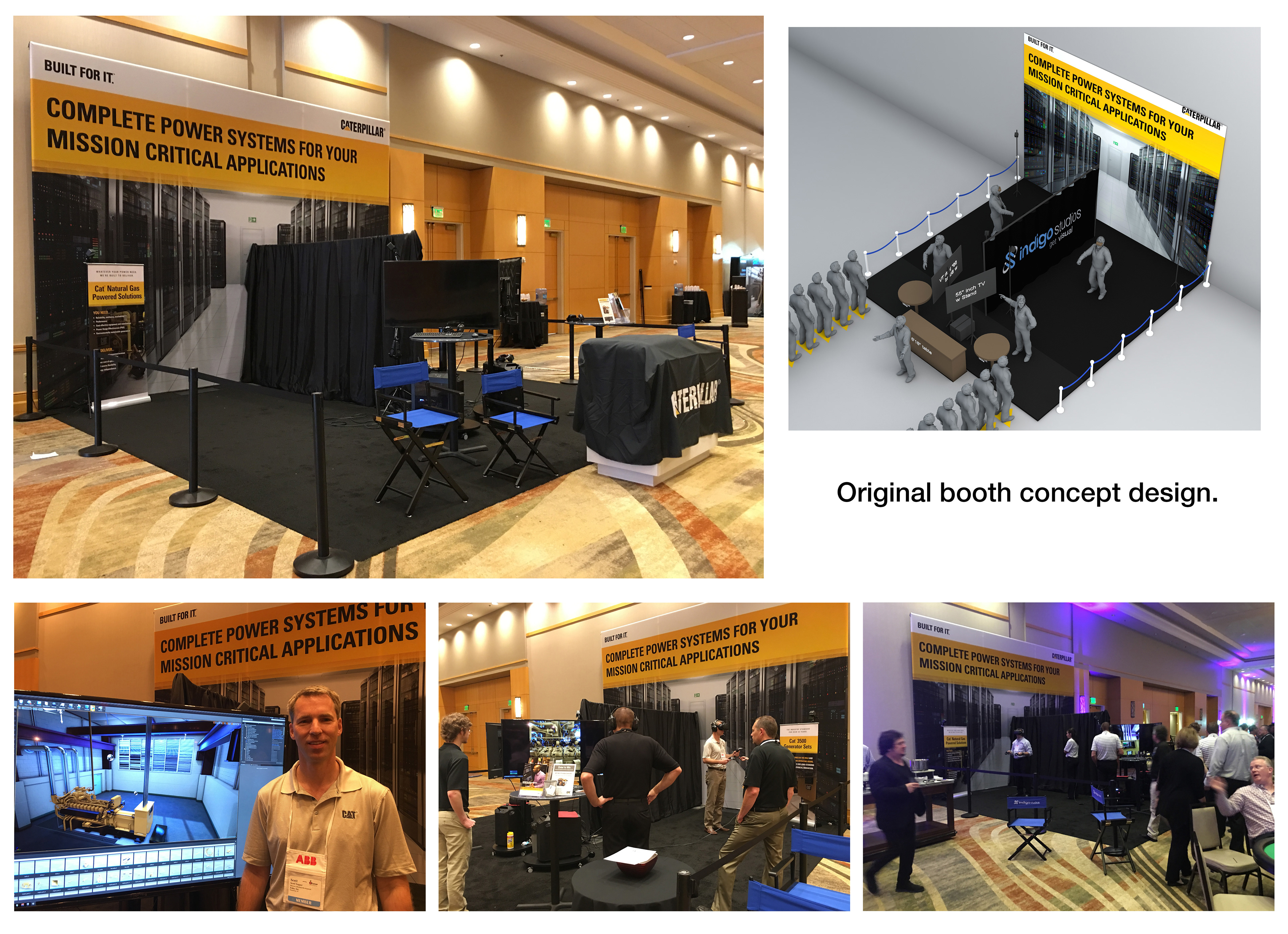 To hear more about the iVR solution, or to request a quote, call Marc Rochon at Indigo Studios and customize a solution that fits your needs.